DriveCentric – Corporate Design Project: Technology Integration & Workplace Culture
Founded in May 2010, DriveCentric, as a company, strives to use rapidly evolving technology to deliver a cutting-edge suite of products to car dealerships. Using modern tools to connect with customers, DriveCentric wanted a space to fit their business goals. The client purchased a 29,000 square foot building in Sunset Hills, MO just off I-270 along MO-30. The original building was an old Vatterott College with many classrooms equipped for teaching everything from CAD to Cosmetology. Previously, their layout lacked a logical flow for an office space and daylighting was limited throughout. For the re-design, we incorporated their branding, cutting-edge technology, and company culture – all important aspects of corporate design.
The New Space
The program features a new atrium with a 2-story green wall where company-wide townhall meetings breathe culture into the space. Technology integration included a large LED screen set into the AV/Presentation wall. Other areas include semi-open workstation "pods", a café with a cigar lounge vibe, and a techy break room. Plants and greenery sprinkled throughout the building promote employee wellness. Overall, the design aesthetic for this corporate office is industrial and techy, yet warm and inviting!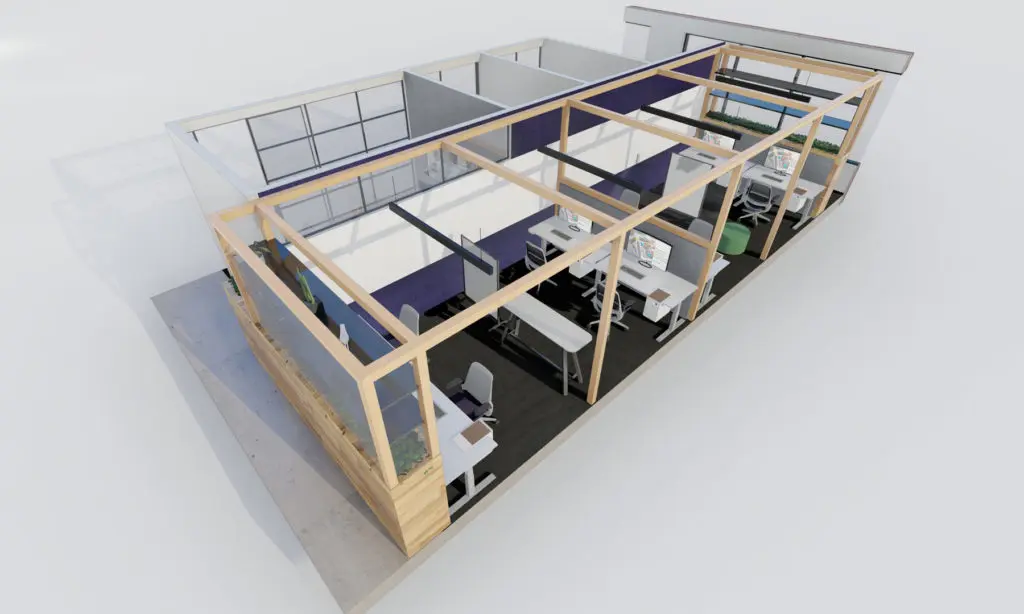 The Design Process
During the schematic phase of the design process, we conducted a blink test with the client to nail down the type of space they were dreaming of.  We showed many images of different types of spaces with various design aesthetics. The stakeholders voted yes, no, or maybe on each image with only a few seconds to choose.  Finally, we gathered all images that all three stakeholders liked and discussed what appealed to them to really understand what the clients were looking for. Our design services included finish selection, 3D renderings, and a virtual walkthrough.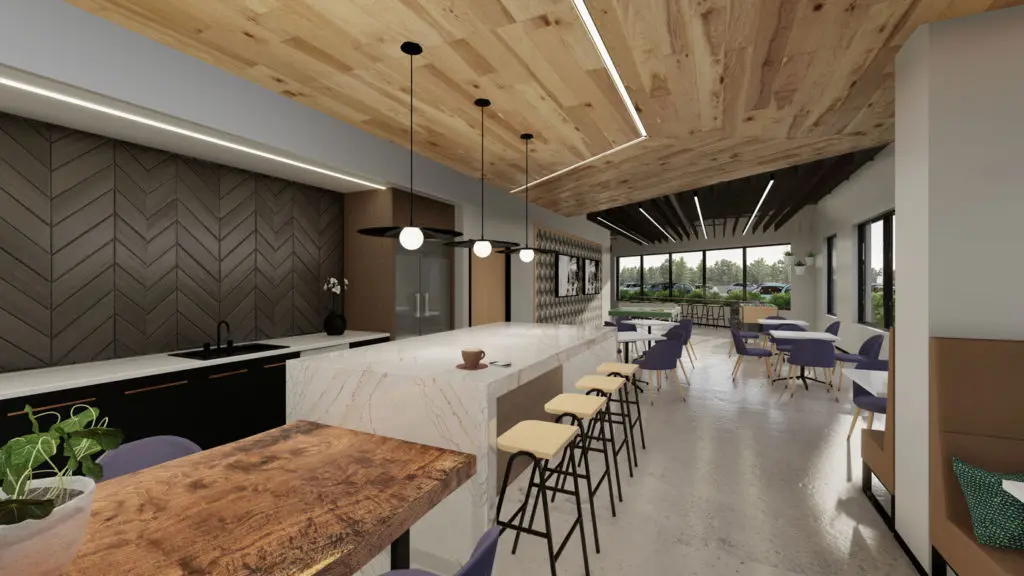 Consultants
Our consultants include a MEP Engineer (G&W Engineering), Acoustic Consultant (JP Acoustics), a Commercial Kitchen Consultant (Rapids Foodservice Contract & Design Co.) and a Structural Engineer (Larson Engineering) for cutting the 2-story atrium space. The general contractor is Diestelkamp Contracting.
We can't wait to see construction start on this project! Check out the video below to view a walk-through of the space.